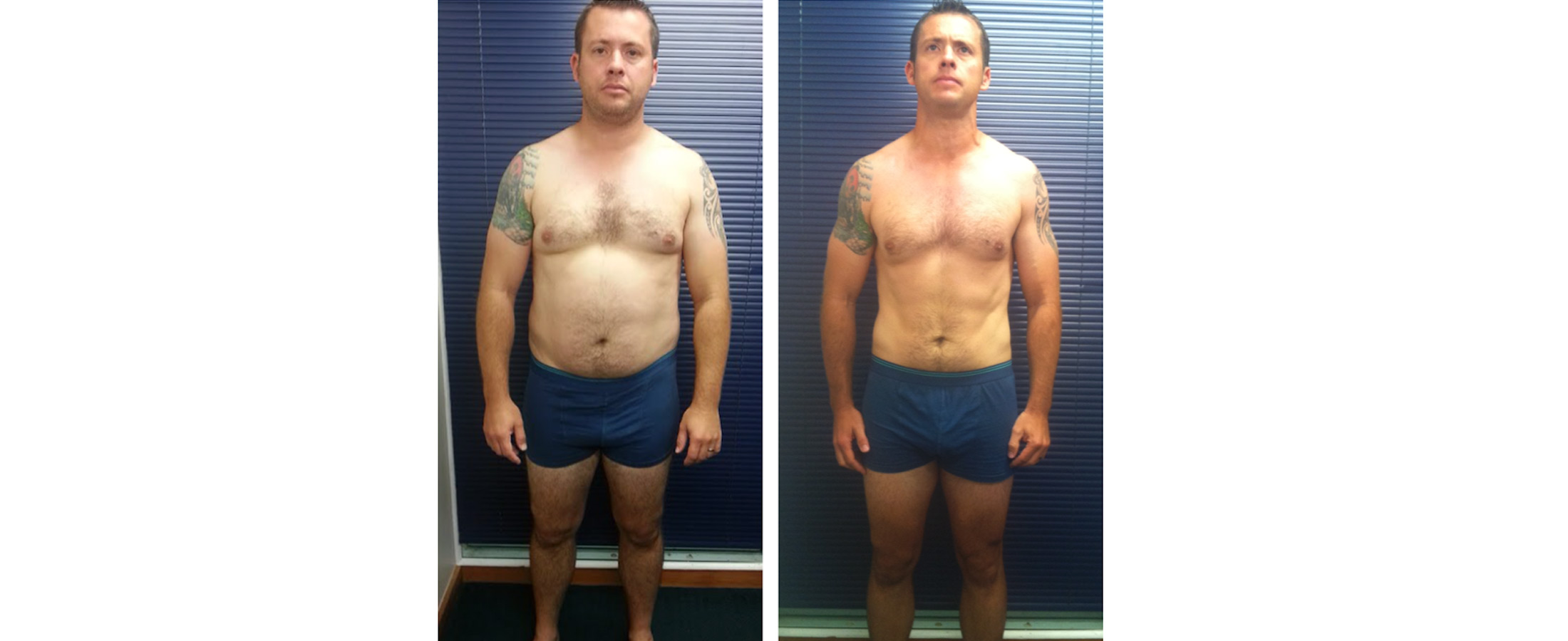 Simon Vissers – 2014 Winner of $10,000
I guess the first step in identifying your inner transformation is to understand what it really is and means. To me, inner transformation needs to be a complete change, so that's Mind, Body, and Soul. Only with all three of these areas Transformed can you truly say that you have undergone a full and complete transformation. So the Mind; the mind is the one tool we have that governs our decisions, both conscious and sub-conscious. And fortunately for us, the conscious mind will generally dictate the actions of the sub-conscious, or in some cases at least over-ride it. So how has my mind been altered? I have grown up in a family where clearing your plate, and waste was not an option. So I identified that a key problem of mine, coupled with lack of quality exercise, was over-eating. Through learning appropriate portion control under the Ultimate Eating Plan I have learnt, and taught my body, what it requires to function in a normal day. My food intake has reduced and I no longer feel the need to clear my plate at every meal. I'm not going to add that I no longer eat unhealthy food options, that would be a lie as I enjoy good food, but what I will say is that I have learnt moderation, and also that my hard work need not be wasted for a moments good taste. Now I work hard for my less than healthy meal options, I don't eliminate them, I earn them and then modify them to suit. Not every burger needs chips and a coke! Or sauce for that matter. The next part of changing my mind set was adjusting how I look at exercise, I learnt that its not just about quantity, but also about other key things such as Timing, Quality, and most importantly, the type of exercise that suits and works best for my body. For example I learnt that stationary cycles and cross training machines don't move my body fat, not like getting out and hitting the pavement on a good run does. And more importantly my knowledge towards quality resistance and weights training has dramatically transformed my workouts. However, most importantly, my attitude to training has changed. I now look forward to getting stuck in to a quality gym session or a decent Run where I feel my heart rate elevate and the sweat starting to pour. I now love the feeling after a good workout and I look forward to the feeling of DOMS when I work a new muscle group hard. And with this change in attitude to training comes an interesting change in how my body reacts. Throughout my 10 week challenges my body slowly started to respond to what felt like my positive attitude to training, if I had a day where I didn't want to train, I found that on those days I had poor results. So the key to my success was to maintain a constant positive attitude to my training, use any hurt I felt as a sign of improvement, not failure. The final part of transforming my mind was simple, achieving my goals. The very first time I met Dene Flude I was an overweight guy, drinking a coke for that matter, I told him that I was going to lose 20kgs. He gave me a smile and got stuck in from that moment in giving me the tools I needed to realise that goal. Over my two transformations I lost a total of over 27kgs, and more than doubled my strength. As these goals started to occur throughout the programme, my confidence grew which in tern strengthened my mind set of wanting to achieve. I guess you could say that strength of mind and transformation of mind set is easily achievable when you begin to attain goals. And this strength of mind is something that has remained with me. Overall, once I had my mind in tune with what I wanted to achieve, the body followed. So the body; this is the most obvious area people think of when they speak of an Ultimate Transformation, but the Inner Body? Most definitely. Prior to starting the Ultimate Transformation Plan I was very overweight, but worse still, my health was suffering. I had high blood pressure, high cholesterol, suffered from headaches and fatigue, and generally had the digestive system of a garbage bin. This had to change, and the Ultimate 10 week challenge forced a dramatic change on my dietary intake, and, as I mentioned earlier, my attitudes towards what goes in my mouth. Over the course of the programme I physically started to feel better on the inside, my digestion improved, headaches stopped due to blood pressure lowering, and most importantly my cholesterol dropped right down into normal healthy range. My resting heart rate even changed, going from an unhealthy 90Bpm, to a standard resting rate of 58!! I know that not all contestants on the programme will note these changes, most wont even check for them, but with my background working in health I knew to check, knew they were poor, and knew I needed a change for good. This is a part of the transformation that has dramatically changed the way I feel day to day. So finally the soul, this is probably the most difficult to explain. But to put it into more simple terms; I have a 2 and half year old son, he loves the outdoors, loves his trampoline, and loves going to the park. Before I started the 10 week Challenge I struggled to give him all the attention I could, I would get tired on the trampoline, short of breath running around the park, and at the end of the day I was exhausted from being an overweight slob, and therefore was not giving my son (and wife) the time they deserved. I looked at myself in the mirror and felt depressed and felt useless, yes an honest and open […]
More
I guess the first step in identifying your inner transformation is to understand what it really is and means. To me, inner transformation needs to be a complete change, so that's Mind, Body, and Soul. Only with all three of these areas Transformed can you truly say that you have undergone a full and complete transformation.
So the Mind; the mind is the one tool we have that governs our decisions, both conscious and sub-conscious. And fortunately for us, the conscious mind will generally dictate the actions of the sub-conscious, or in some cases at least over-ride it.
So how has my mind been altered? I have grown up in a family where clearing your plate, and waste was not an option. So I identified that a key problem of mine, coupled with lack of quality exercise, was over-eating. Through learning appropriate portion control under the Ultimate Eating Plan I have learnt, and taught my body, what it requires to function in a normal day. My food intake has reduced and I no longer feel the need to clear my plate at every meal. I'm not going to add that I no longer eat unhealthy food options, that would be a lie as I enjoy good food, but what I will say is that I have learnt moderation, and also that my hard work need not be wasted for a moments good taste. Now I work hard for my less than healthy meal options, I don't eliminate them, I earn them and then modify them to suit. Not every burger needs chips and a coke! Or sauce for that matter.
The next part of changing my mind set was adjusting how I look at exercise, I learnt that its not just about quantity, but also about other key things such as Timing, Quality, and most importantly, the type of exercise that suits and works best for my body. For example I learnt that stationary cycles and cross training machines don't move my body fat, not like getting out and hitting the pavement on a good run does. And more importantly my knowledge towards quality resistance and weights training has dramatically transformed my workouts. However, most importantly, my attitude to training has changed. I now look forward to getting stuck in to a quality gym session or a decent Run where I feel my heart rate elevate and the sweat starting to pour. I now love the feeling after a good workout and I look forward to the feeling of DOMS when I work a new muscle group hard. And with this change in attitude to training comes an interesting change in how my body reacts. Throughout my 10 week challenges my body slowly started to respond to what felt like my positive attitude to training, if I had a day where I didn't want to train, I found that on those days I had poor results. So the key to my success was to maintain a constant positive attitude to my training, use any hurt I felt as a sign of improvement, not failure.
The final part of transforming my mind was simple, achieving my goals. The very first time I met Dene Flude I was an overweight guy, drinking a coke for that matter, I told him that I was going to lose 20kgs. He gave me a smile and got stuck in from that moment in giving me the tools I needed to realise that goal. Over my two transformations I lost a total of over 27kgs, and more than doubled my strength. As these goals started to occur throughout the programme, my confidence grew which in tern strengthened my mind set of wanting to achieve. I guess you could say that strength of mind and transformation of mind set is easily achievable when you begin to attain goals. And this strength of mind is something that has remained with me.
Overall, once I had my mind in tune with what I wanted to achieve, the body followed.
So the body; this is the most obvious area people think of when they speak of an Ultimate Transformation, but the Inner Body? Most definitely. Prior to starting the Ultimate Transformation Plan I was very overweight, but worse still, my health was suffering. I had high blood pressure, high cholesterol, suffered from headaches and fatigue, and generally had the digestive system of a garbage bin.
This had to change, and the Ultimate 10 week challenge forced a dramatic change on my dietary intake, and, as I mentioned earlier, my attitudes towards what goes in my mouth. Over the course of the programme I physically started to feel better on the inside, my digestion improved, headaches stopped due to blood pressure lowering, and most importantly my cholesterol dropped right down into normal healthy range. My resting heart rate even changed, going from an unhealthy 90Bpm, to a standard resting rate of 58!!
I know that not all contestants on the programme will note these changes, most wont even check for them, but with my background working in health I knew to check, knew they were poor, and knew I needed a change for good. This is a part of the transformation that has dramatically changed the way I feel day to day.
So finally the soul, this is probably the most difficult to explain. But to put it into more simple terms; I have a 2 and half year old son, he loves the outdoors, loves his trampoline, and loves going to the park. Before I started the 10 week Challenge I struggled to give him all the attention I could, I would get tired on the trampoline, short of breath running around the park, and at the end of the day I was exhausted from being an overweight slob, and therefore was not giving my son (and wife) the time they deserved. I looked at myself in the mirror and felt depressed and felt useless, yes an honest and open account of how bad I felt with myself. So I knew that something had to give, I wasn't getting any younger and I certainly wasn't getting any fitter.
So now that the challenge is over, I'm fitter, stronger and feel much better about myself as a person. I spend much more time out and about with my wife and son, we enjoy the park and going for walks, and long hours on his beloved trampoline. So how does this equate to the soul? Well family is the soul. I can give so much more to my family now, which is fantastic for the soul and makes me very happy. Of course I cant, and wouldn't, keep up the same tempo of training that I had while on the challenge, but I feel that I have discovered and learnt balance in my life, and I feel in control of my body. I know that I can have a bad spell and put on a kg or two, but I have the tools now to work myself back into shape, but more importantly I have the confidence and commitment to do it.
So to conclude, what is my Inner Transformation? I simply say that I have, with the support of my amazing wife and of my trainer, improved, beyond all expectation, my mind, body and soul, to a point where I have the confidence, knowledge and ability to go forward without worrying about my appearance and can enjoy my life in a fitter, faster, stronger and healthier body.
I didn't just transform the shape of my body, I transformed my life, I got Ultimate.
Finally, I want to thank those that have aided in my Transformations, Dene Flude my trainer of course, but above all else, the commitment my wife made for me to attend my training sessions. My Transformations are attributed to your commitment to me and I am very thankful.